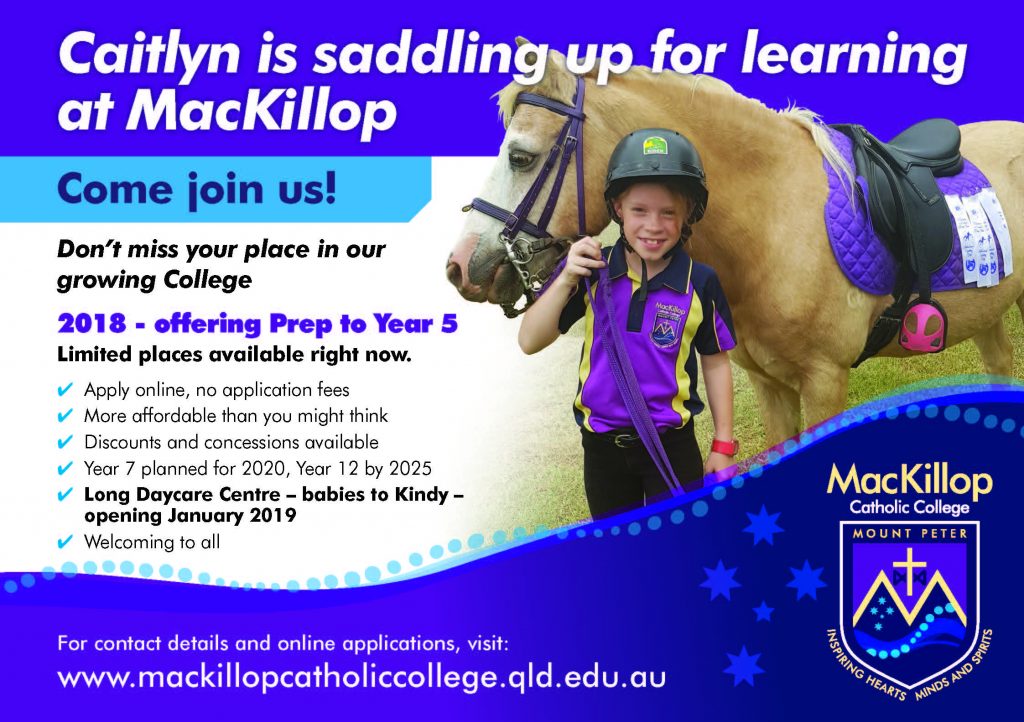 Click here for information about enrolling your child for 2018
Strong demand for enrolment at MacKillop Catholic College has resulted in an additional Prep class for 2018. Extra classes have also been added in Years 3, 4 and 5 and limited vacancies are still available in Years 1 and 2. Year 7 planned to start in 2020.
Applications for enrolments can be made online via the link below and no application fee applies! Enrolling in a Catholic schools is far more affordable than you might think, and fee concessions are also available for those in genuine need. Catholic schools are welcoming to all and have no geographical catchment areas. Enquire today.
~ ~ ~ ~ ~ ~ ~ ~ ~ ~
Thank you for your interest in enrolling your child at MacKillop Catholic College. Enrolment enquiries and applications are welcome at any time throughout the year. Applications for Prep enrolments are accepted up to two years prior to starting. Prep interviews are conducted in Term 1 of the year preceding and confirmation of enrolment by the end of Term 2. Applications for other year levels are welcome throughout the year.
See Also:
Online Application for Enrolment
Please find below the link to your child's online application for enrolment. You will need to click on the link, enter and review the required details, complete and submit the form.
If applying for enrolment for more than one student, when the form is completed, an option will be available to submit another enrolment for each additional student.
Please contact us directly, should you experience any difficulty completing the online application for enrolment.
~ Click here to access our Online Enrolment Application Form ~

Steps to ensure your application can be processed
To complete your application, there are number of documents that need to be provided to us. Please forward copies of the following:
Birth Certificate
Baptismal Certificate (if baptised)
Last two school reports and NAPLAN report(s) (as applicable)
Medicare Immunisation Statement
Any medical or learning reports
And if noted in your application: Legal Documentation, Medical Action Plan and Student Specialist Assessments
Once we receive all the above documentation, only then is the application considered complete.
Documentation may be emailed to: office.mountpeter@cns.catholic.edu.au.
Documentation may also be posted to: PO Box 1027, Edmonton Qld 4869
Please note, submission of an application does not guarantee enrolment.
We are pleased to announce that applications for enrolment to MacKillop Catholic College no longer attract an Application Fee at the time of lodgement.
You will be notified of the receipt of your application and of the next steps, including an enrolment interview.
If your application progresses, the Principal will make you an offer of enrolment. Parents accept the offer by completing a 'Confirmation of Enrolment Form'. All new Families will be required to pay a $100 enrolment deposit per child within one week of the date of the acceptance letter. This will ensure that we hold a place for your child/children for the following year. This enrolment deposit is then deducted from your first term fees.
Please contact the School Office by phone 07 4045 5262 or by email should you have any further questions about the enrolment process.
Conditions of Enrolment
Parents/Carers commit to:
their child participating in all areas of the curriculum including liturgical celebrations, camps and excursions.
adhering to all school policies, protocols and procedures.
meeting their financial obligations as determined by the school.
actively supporting their child's learning and participating as a member of the school community.
Please Note: It is a government requirement to provide the original Birth Certificate at time of application (it will be copied and handed back immediately).
Enrolment for Children with Special Needs
Parents are obliged to inform the school of any disabilities or needs that their child may have which may affect their schooling. If a child has a special need that may have significant impact upon their learning, or have an impact upon the human or physical resources of the school beyond the general learning program, the enrolment application must be processed by our Special Education consultant.
This process is designed to ascertain a child's level of ability, the appropriate resources and programs needed to facilitate such a special program and the school's ability to meet the child's needs. At the conclusion of the process the school Principal decides upon the acceptance of the enrolment based upon the available information.