ANNUAL GENERAL MEETING (AGM)
Tuesday the 10th of October will see our AGM take place in The Penola Learning Common. This meeting will see voting in of the MacKillop P & F committee, who will see us through to the end of 2017 and beyond in 2018. Everyone parent/guardian is welcome to attend and the AGM will be followed by our regular meeting. We hope to see you there!
CENT SALE – SAVE THE DATE!
Our first ever MacKillop Cent Sale is coming up. Although Saturday the 28th of October seems a while away, we have no doubt that this will creep up on us in no time! If you have any unwanted brand new gifts that you would like to donate, please speak to a P and F committee member. Thank you to those who have already generously donated!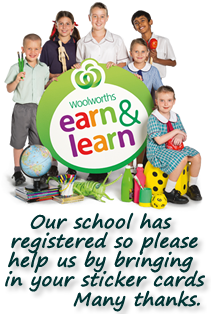 We would also like to ask for gift voucher donations of any sort to contribute to making our Cent Sale a profitable fundraiser! If you would like a donation letter to present to your company, please email the committee at pandf.mountpeter@cnsstu.catholic.edu.au and we will forward via email or print some for you. These forms will also be available from Tracey in the tuckshop.
WOOLWORTHS EARN AND LEARN
Thank you for all the Earn and Learn stickers that have been coming into school so far. We appreciate your shopping efforts and will continue to collect stickers until the 19th of September.
Tracey McCarthy
Email: pandf.mountpeter@cnsstu.catholic.edu.au