My Nana loved to sing like Doris Day. One of her favourite songs was 'Que será, será'. Responding to the child's wondering about what she might be when all grown up, Doris Day sings with wisdom: "Whatever will be, will be / The future's not ours to see / Que será, será". Such a sweet song – but oh so not true.
Our future is not fate, or luck, or chance. Our future is not inherited either; it is something we can create. And to create a future of worth and meaning, we need the right set of skills.
That's why at MacKillop we form our students to collaborate with trust, communicate with clarity, think with a critical mind, reach out with a compassionate heart, create with imagination – and use all these dispositions with an ethical hopefulness. With these 21st century skills, our students are bringing faith and learning to life.
I know that just like all parents, we want our children to have the skills and mindsets to build success in their lives; knowing that success while have a uniquely different shape and form for each, in keeping with the variety of interests, passions, priorities and circumstances that will continually unfold in life.
An ethical sensitivity is one of the attributes often listed among the '21st Century skills' – but which really has always been sought after. A well-developed sense of moral agency, which emerges from hearts, minds and spirits in tune together, will well serve our young people going forward. At MCC, our moral compass seeks its 'point of truth' in the Gospel teachings of Jesus and draws upon the Scripture's affirmation of the 'why' of human existence.
Quality leadership is a natural extension of the 21st Century skill set. We work today to prepare leaders for the future. We are committed to developing these skills and capacities in every student. From our perspective, sound leadership understands the 'why', or purpose, of leadership. At its best, community leadership builds on the dignity of each and seeks a balance between individual aspiration and a pursuit of the common good.
Regrettably, our recent experience in many sectors has been of leadership, blinded to authentic purpose, serving sectional, and worse still, self-interests. The recent Royal Commission into institutional responses to child sexual abuse rightly lambasted church leadership for preferencing institutional position and reputation over its professed aim of extending Christ's mission to proclaim, 'good news to the poor, sight to the blind, liberty to captives, and freedom for the oppressed'. Political groups seem not immune, too often giving-in to expediency in seeking to hang on to power at the expense of serving the people.
This Sunday's scriptures speak to this:
Jesus called his disciples to him and said: 'You know that among the pagans their so-called rulers lord it over them, and their great men make their authority felt. This is not to happen among you. No; anyone who wants to become great among you must be your servant, and anyone who wants to be first among you must be slave to all. For the Son of Man himself did not come to be served but to serve, and to give his life as a ransom for many.'
Guided by this, the leadership structure we will establish for our primary sector student leaders (Year 6) will feature service leadership experiences for all in a 'ministry portfolio' arrangement. How this will look will be developed collaboratively with our young people, with strong student voice and agency. In all probability, leadership ministries will be around areas such as: college ambassadors representing at events and welcoming and hosting visitors; leading sports, cultural and environmental events and initiatives; assembly and prayer leadership; and a host of other community service opportunities.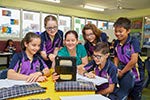 Everyone grows personally when given an opportunity and support to lead; we will ensure these opportunities are for all Year 6 primary leaders. As Doris Day sings, the future may not be ours to see, nevertheless we will not leave all to chance. We will put in place purposeful supports and opportunities so that our young people can create their futures; futures hallmarked with worth and meaning.
Luke Reed
Principal