The arrival of a baby in the family is a great joy. At the same time, it demands physical and emotional accommodations of all sorts as space is made in the home, its routines and relationships, for its littlest member. And these accommodations have to be renegotiated at every stage of development and growth.
Metaphorically, we celebrated the arrival of a new family member at MCC when the MacKillop Early Learning Centre opened at the beginning of the year. We have been delighted to see these little ones through the fence, now coming across from time to time to visit our Library, join our Preps and enjoy our playground. Early last Thursday evening, I received an email from Ms Tammy, MELC's Assistant Director, with 'feedback' for me following the visit of their Kindy kids to our junior oval earlier that day. It was to be a 'bush-walk adventure' along the creek (though from the safety of the school-side of the fence). As happens with groups of young children, getting ready for the excursion took a little longer than expected, so instead of having come and gone prior to the school lunch break, the kindy troop arrived just as the morning recess bell rang out. I wondered what sort of feedback I was about to read.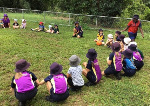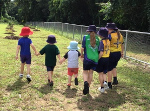 To everyone's delight the excursion was a great success! A whole bunch of MCC kids raced over to welcome the little ones, giving helpful advice about scattered patches of sensitive weed and other 'dangers' to be encountered on the junior field. Hand-in-hand they all sat down for a game of 'Duck-Duck-Goose', having great fun together until tragedy struck. A tooth of one of our six-year-olds, wobbly for some time, had fallen out and dropped to the ground. In the same spirit of the 'lost sheep', Duck-Duck-Goose was abandoned and an Emu Parade organised as, shoulder to shoulder, Kindy Kids and School Kids searched for the lost deciduous denticulus. And, miracle among miracles, found it was!
What a wonderful experience of real-life learning for everyone. The learnings of that Thursday morning are captured by the Australian Curriculum's objectives for personal and social capabilities desired for all learners [see more at https://www.australiancurriculum.edu.au/f-10-curriculum/general-capabilities/personal-and-social-capability/] and reflect the goals of the Melbourne Declaration on what it is to grow into an active and informed citizen [see more at http://www.curriculum.edu.au/verve/_resources/National_Declaration_on_the_Educational_Goals _for_Young_Australians.pdf]. From our College perspective, we desire to bring faith and learning to life at MacKillop. What occurred on the junior field last Thursday was an expression of the characteristics that we believe define us as a Catholic learning community [see http://www.cns.catholic.edu.au/wp-content/uploads/2013/11/Defining-Features-brochure.pdf].
After the experience of a loving and supportive home, education is the single most powerful factor correlated with human development. As spiritual beings, we believe that a vision for humanity at its best is derived both from natural reasoning and from divine revelation. Christians believe that in Jesus we know human destiny and are empowered to grow towards it. That is why the Church is active in this 'education space'.
Our commitment to the best educational outcomes for our students is infused with the development of ethical capacity and moral purpose, shaped by our Christ-inspired vision of humanity. That's why we constantly reference Jesus and the Scriptures at school. We draw links between students' experiences at school, home and beyond, with the Christian Scripture's vision of who we are called to become. It's the quality of our relationships and the manner in which we utilise our skills and knowledge that it a litmus of our strength of character as authentic human beings.
In these coming weeks, Teachers are preparing reports of learning growth for each of our students. These reports will also reflect observations around students' social and human development. Learning and personal growth are on a continuum. A 'growth mindset' praises effort, resilience and commitment to improvement. It also values challenges, failings and setbacks as opportunities to reflect, learn and grow.
As a Catholic school we do not claim any exclusive position over other sectors in pursuing education excellence in responding to the Australian Curriculum's objectives or the Melbourne Declaration's vision. While we do share this same pursuit of excellence, moreover, we draw meaning and direction from our privileged access to the Christ-inspired vision for humanity. Our belief is that as spiritual beings, life and its living are transformed in relationship with the living Spirit of Christ.
From this Sunday's Scriptures for the Feast of the Ascension of the Lord;
"May the God of our Lord Jesus Christ … give you a spirit of wisdom and perception of what is revealed, to bring you to full knowledge of him. May he enlighten the eyes of your mind so that you can see what hope his call holds for you" [Ephesians 1:17-18]
'Duck-Duck-Goose' and 'Find-the-Tooth' are more than cute anecdotes; from the eyes of faith, they are lived expressions and formative experiences for our shared humanity!
May God bless our combined efforts for the sake of our kids.