This week will be an important milestone in the development of our College. Having expanded this year to the full primary school offering of Prep to Year 6, our Opening Liturgy on Wednesday (8:45) will incorporate the commissioning of the entire Year 6 cohort as our school leaders.
The MacKillop CC model of Year 6 leadership has as its objective the service of the school community, while providing a rich personal and formative experience for our Year 6 students. It is helpful if we are familiar with our approach to Year 6 leadership in our discussions and conversations within the community as our approach differs from the models adopted by most P-6 Primary schools.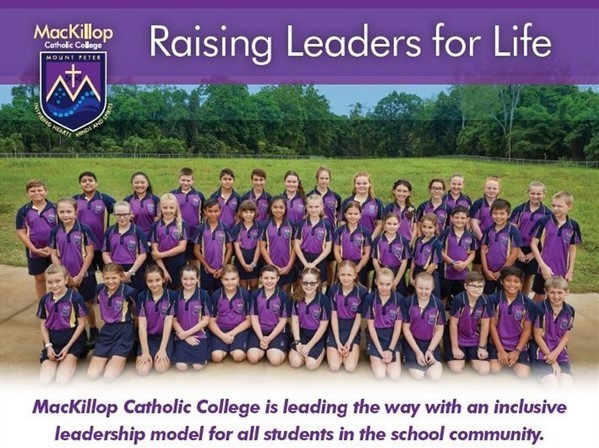 Year 6 Student Leadership at MCC
MacKillop Catholic College is intent on promoting an inclusive leadership model, so that all students both engage in leadership experiences and grow in their capacities for effective Christian leadership.
Our vision for student leadership at MCC is that it be broadly inclusive, participative and service focused. Our Year 6 students will be members of our College community for a further six years. They will substantially develop their personal capacities, including their leadership attributes, across that time. Formal representative leadership roles such as Captains have a more fitting place at the summative stage of a P-12 College.
The Year 6 experience is that they are the natural student leaders of the primary school community. We will recognise and celebrate that as we co-create leadership opportunities for all Year 6 students which are practical, supported by structure and training, open to all, and will contribute to the personal and social formation of every student. A number of students new to MCC will be joining the Year 6 community at the start of 2019. We want to include these students in these formative leadership opportunities.
Quality leadership is a natural extension of the 21st Century skill set. We work today to prepare leaders for the future. We are committed to developing these skills and capacities in every student. From our perspective, sound leadership understands the 'why', or purpose, of leadership. At its best, community leadership builds on the dignity of each and seeks a balance between individual aspiration and a pursuit of the common good.
Guided by this, the leadership structure we will establish for our primary sector student leaders (Year 6) will feature service leadership experiences for all in a 'ministry portfolio' arrangement. How this will look will be developed collaboratively with our young people, with strong student voice and agency. In all probability, leadership ministries will be around areas such as: college ambassadors representing at events and welcoming and hosting visitors; leading sports, cultural and environmental events and initiatives; assembly and prayer leadership; and a host of other community service opportunities. Everyone grows personally when given an opportunity and support to lead; we will ensure these opportunities are for all of our Year 6 students in their collective role as primary leaders.
I am grateful for the work Year 6 students are now engaged in to explore the 'why, what and how' of leadership. Their own voice and agency in this process are essential to authentic leadership, and the support of the Year 6 Teaching Team, together with our Primary leaders is invaluable.
In the Sunday Gospel readings from St Luke over the past weeks have seen the commencement of Jesus' public ministry, culminating in his proclamation of God's Spirit in action in the Nazareth synagogue. This past Sunday's scripture passage sees Jesus' calling of the fishermen into discipleship. It is instructive that the Greek word used by the evangelist when referring to the catching of people ['Do not be afraid; from now on it is men (sic) you will catch.'] has the meaning of 'catching alive', in contrast to commercial or recreational fishing where the fish inevitably die in the process.
The essence of our work as a Catholic school community is to 'cast the net' wide and deep, using all the skill and creativity at our disposal, so that we may 'catch alive' our young people; catch them 'for life!'. While equipping them with the skills for living and contributing well in this current era, we call them into relationship with the living Spirit of Christ which offers a way of living and believing with 'depths' of both meaning and purpose.