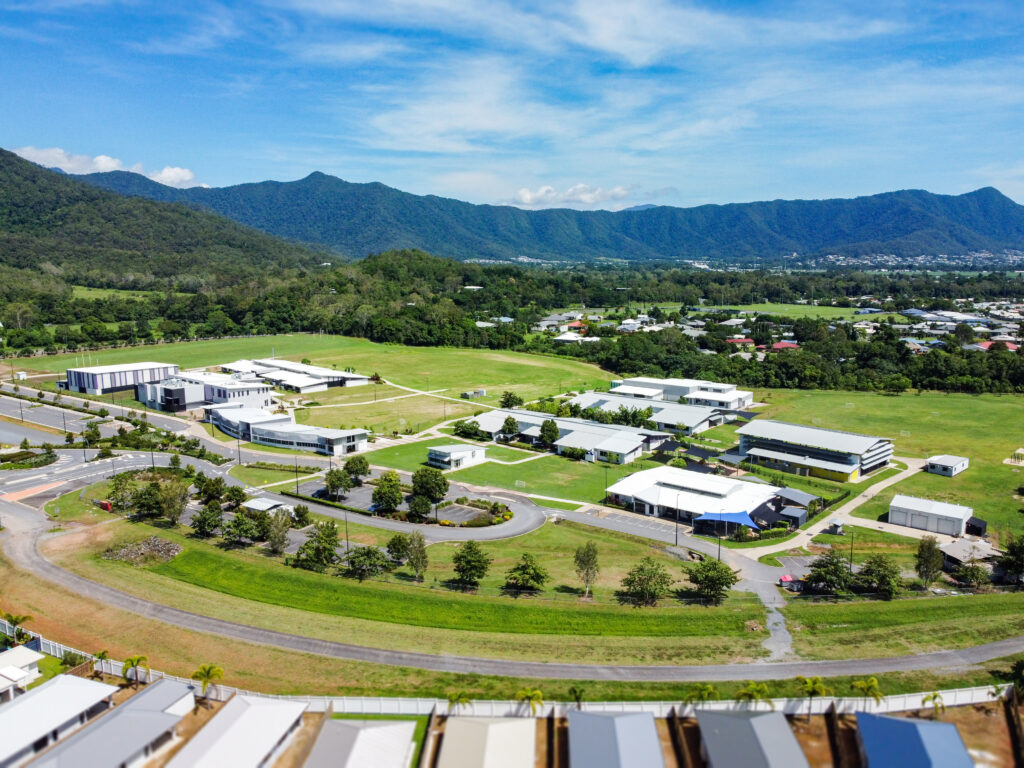 Choosing a school for your child is a huge decision
It's a big step starting school and we understand how important it is to find the right school for your child. You want a place where they will flourish emotionally, mentally, physically, spiritually and socially. A place where you know that they are safe, happy and being nurtured to be the best version of themselves.
Choosing a school is not just a decision we make with our minds, it's a decision we also need to make with our hearts. You need to feel a school to see if it's the right fit for you and your child. So, we encourage you to come and see if MacKillop is the home away from home that you are searching for.
We welcome being considered as an option for your child's education and hope you will make contact soon, so that we may meet you and show you what MacKillop can offer your child and your family.
Here are just some of the reasons to enrol at MacKillop
Located in the fields at the foot of Mount Peter in southern Cairns, it's a beautiful location for learning. Kinetic Buses run a northern and southern service to MacKillop.
One-stop education solution
With an Early Learning and Care Centre for newborns to Kindy onsite, and Prep to Year 10 in 2023, the College will reach Year 12 in 2025 to become the school of choice for the whole family, where all your children can learn together from birth to graduation.
21st century facilities
MacKillop's state-of-the-art learning spaces facilitate delivery of the College's dynamic and integrated curriculum that is essential to meeting 21st century learning needs – even for our youngest learners. These spaces assist teachers to differentiate lessons and accommodate the different needs of learners. With our Secondary Science labs, Art rooms, Technology, Design and Food Technology rooms – there is something for all teenagers. We even have a dedicated music program where every child from Year 2 can learn to play a musical instrument.
The MacKillop way
Based on our values of respect, engagement in learning and personal best, you'll love the feel of the welcoming and caring community, that produces resilient learners.
A growth mindset
MacKillop students learn how to have and maintain a growth mindset, so they can be resilient learners for life. A growth mindset embraces challenges, persists in the face of obstacles, sees effort as necessary, learns from constructive criticism and is inspired by others' success. This growth mindset permeates all learning at MacKillop, from Prep through to the Secondary years of schooling.
A catholic school for all
MacKillop is inclusive and welcoming to all faiths and abilities. There are no defined catchments, and the College realises its authentic Catholic identity through a strong spirit of community, outreach, excellence in learning, spiritual formation and growth.
Flexible fees
MacKillop strives to keep fees as low as possible and be affordable to all. Where there is a need, we offer generous concessions and multi-student discounts.
No application fee
To help families, we have no enrolment application fee. So, complete an online application form, and have a tour of our school without any out-of-pocket expense.
Nurturing environment
If you want a school where your child feels safe, happy and welcome, and will be nurtured to be the best version of themselves, enrol your child at MacKillop.
Located at the entrance of Mount Peter Residential Estate
Mount Peter Residential Estate, Cairns' most progressive and affordable southern development by Kenfrost Homes is situated in the fastest growing area of Cairns, Mount Peter. This massive, multi-stage development will feature over 1000 home sites on completion. It has Mackillop Catholic College at the front entrance, with future plans for the surrounding areas to include retail shops, sporting and community facilities including nature trails in the adjacent hills similar to the red, blue, and green arrow trails in Edge Hill.
The lifestyle in this estate offers residents with plenty of healthy options with pathways, a generous parkland, basketball court, and wellness area which can be seen in full use by the residents on any given afternoon weather permitting.

Visit the website to learn more.
Enrol now for 2024 and 2025
Children are eligible to start Prep from the beginning of the school year in which they reach the age of 5 years by 30 June. Enrolment applications are accepted from up to two years prior to the year of enrolling. If your child is in Years 4, 5, or 6, there's no better time than now to start the enrolment process for Secondary. Positions are limited so apply now!