In the spirit of the vision and mission of our College community, we are committed to be partners with parents and families in pursuing the wellbeing, learning and character development of our students. College policies and procedures are directed towards the supporting this goal of these goals. The social norms of the school are fundamental in establishing the environment in which these goals are pursued. The College's Uniform policy assists in creating a suitable educational environment at Mackillop.
T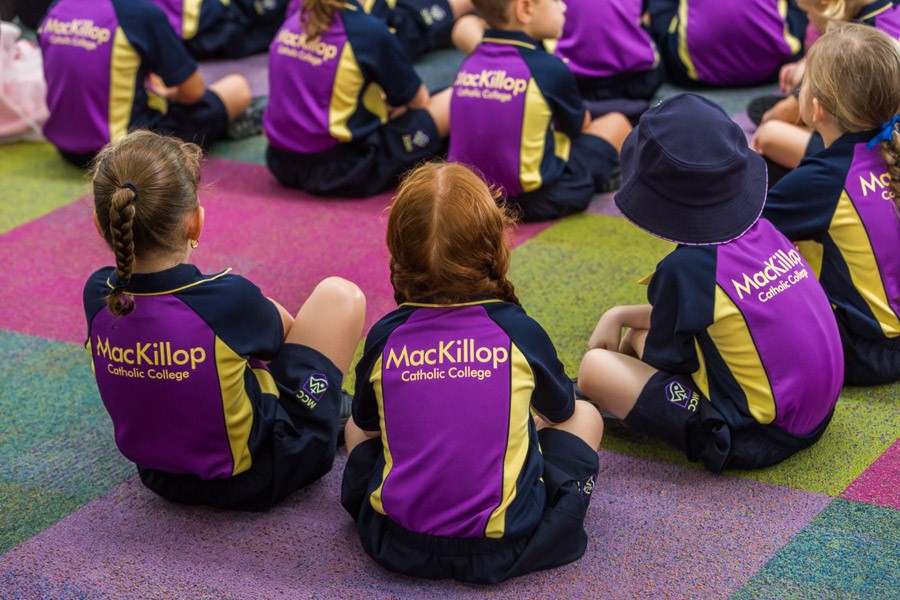 he wearing of a school uniform is a tradition with a significant history in Australia generally, and within Catholic education in particular. It has a strong value as an outward symbol of the pursuit of a common purpose – Education. The wearers of a uniform are identified as members of a particular community; in our case as members of the MacKillop Catholic College community. The wearing of a common outfit promotes a shared sense of belonging and purpose.
Uniforms also promote equity in that individuals are not distinguished in terms of their economic or social status – all are valued for who they are rather than what they have. Besides obvious safety issues in some learning activities (e.g. HPE and sports), the wearing of jewellery is discouraged for similar reasons of equity.
Regular Uniform
The MacKillop Catholic College uniform consists of:
College broad brim bucket hat – Navy with purple Trim – embroidered mini logo
College Polo Shirt – unisex – Purple/Navy/Yellow panels and piping – embroidered College logo
Short or Skort – Navy with embroidered mini logo
The regular uniform is worn Monday, Tuesday, Thursday and Friday.
These items are required for each student and are available from the Uniform Shop.
College backpack – Navy with white printed College logo (15 Year warranty)
Library Satchel – Navy with white printed College logo
Additional items, not available through the College, but readily available from local retail outlets
Socks: Navy Blue short crew style (i.e. folded above the ankle)
Shoes: Black school shoe (sports style); velcro (or lace-up, once students can tie own shoelaces)
House/Sports Uniform
A College House/Sports Uniform will be in place for 2017. The House/Sports Uniform is worn on Wednesdays and for special events as announced from time to time.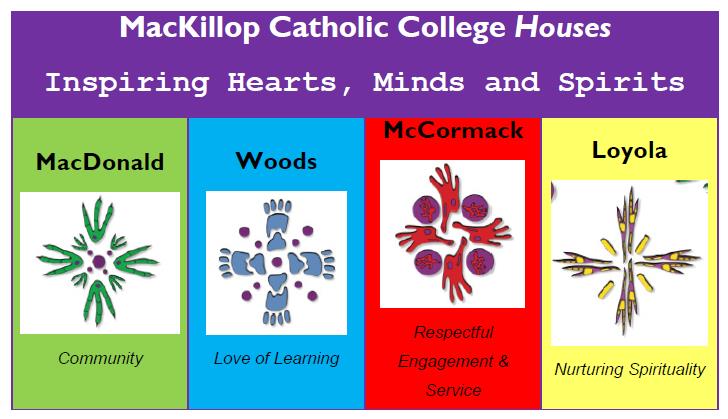 The House/Sports Uniform consists of:
Polo style sports shirt in the colour of the student's House with House logo.
Navy blue sports short, embroidered with College mini-logo.
College bucket hat
** Socks: Navy Blue short crew style (i.e. folded above the ankle)
** Sports shoes/runners
** these items are not available from the College Uniform Shop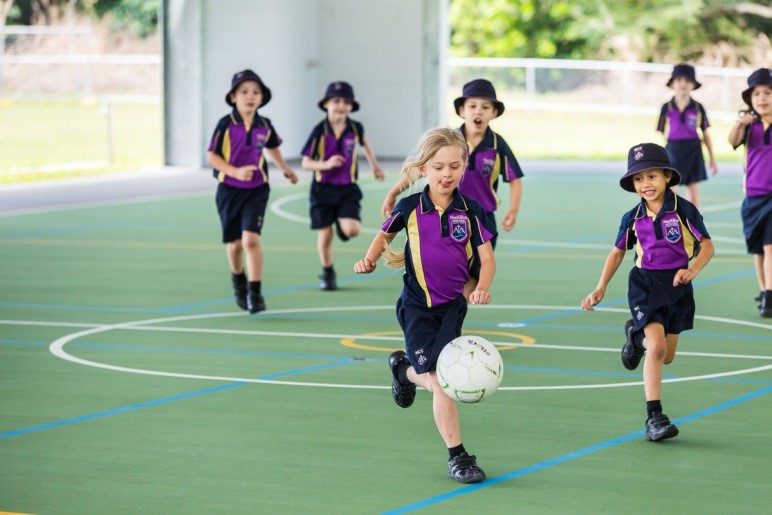 School Hat
All students are required to wear their school hat throughout the year at break times, and when and when participating in outdoor activities. The school hat should be worn to and from school. MCC's "No Hat – No Play" Policy during lunch breaks means if a student does not have their hat at school they are required to be in an allocated shaded location as directed by a staff member.
Grooming
All students who have hair below the collar of their uniform should tie their hair up neatly using ties in school colours. Students are able to wear school coloured clips, ribbons and headbands of a reasonable size so as to be unobtrusive. Students' hair should be of natural colour and styled in a simple regular manner.
Students are able to wear plain studs or sleepers of minimal size, limited in number to one in each earlobe.
A religious symbol (e.g. Cross) may be worn on a plain silver or gold necklace.
Students are able to wear a watch to school.
Students should not wear nail polish or tattoo stickers to school. If applied for out-of-school activities, these are best removed before returning to school.
Roles and Responsibilities
Students: All students are responsible for wearing the MacKillop Catholic College uniform correctly and with pride. Students should maintain an appropriate standard of grooming throughout the day. All students are to wear their school hat throughout the year at break times and when participating in outdoor activities.
Parents/carers: All parents/carers are responsible for supporting the Uniform and Grooming Policy. Parents/carers are also responsible for the upkeep of their child/ren's uniform and for the repair or replacement of items. Parents are advised to label all items of their child/ren's school uniform including the school hat, to help returning lost items to their owners.
Staff: Staff members are responsible for maintaining the Uniform and Grooming Policy by monitoring the standard of dress and grooming. Staff members assist students to understand and follow the Uniform policy.