Neuro-musical educator Dr Anita Collins recently said more music is needed in the classroom and the curriculum needed to be updated to reflect the benefits of music education across the board after a 20-year decline – and MacKillop Catholic College music teacher Jan Veronese couldn't agree more.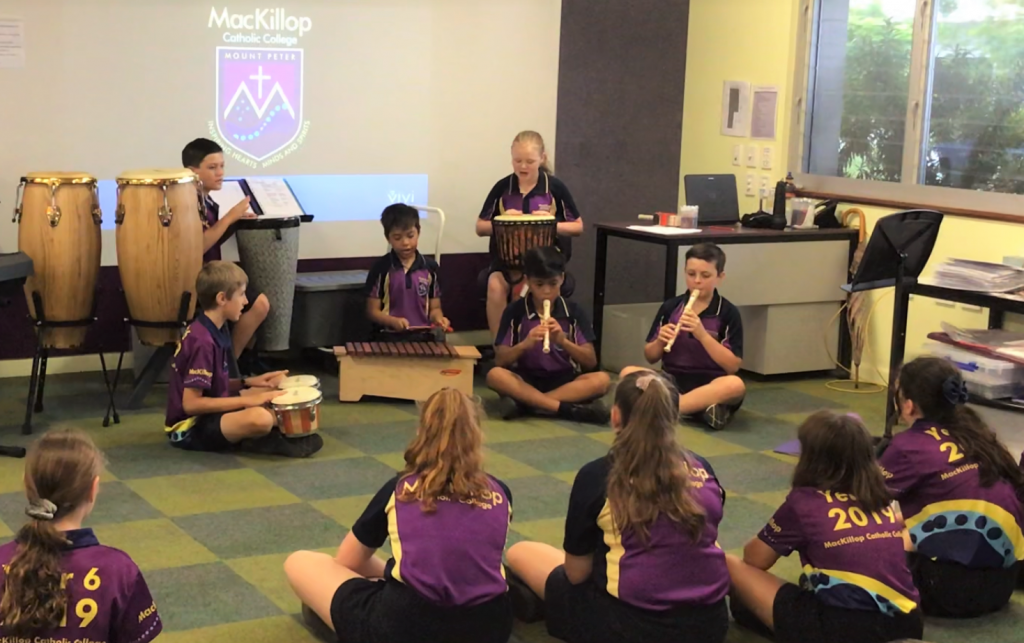 "Along with Dr Anita Collins, I believe there has been a decline in musical education in school environments," explains Jan. "Neuroscientists have studied and shown that music is the only subject that uses the whole brain and therefore plays a very important role in the whole development of our children – their physical, emotional and, in particular, their academic development."
Anita Collins also believes in focusing on brain development when it comes to music, saying we are not necessarily setting students up to be musicians but rather setting them up to have every cognitive foundation required to learn throughout life.
"Evidence has shown that the cognitive development of children who regularly participate in music lessons or learn a musical instrument is much higher," explains Jan. "Music education helps with all subjects – language, maths, history, technology, science etc. Many students have exceptional talents in music and these can often only be witnessed through a good music program. Music is also a subject that all children can enjoy and participate in and progress at their own pace."
At MacKillop Catholic College, the Arts are highly valued and students from Prep to Year 6 benefit from learning about music elements, composing songs, learning the descant recorder, participating in a strings program and performing for their peers. From 2020, all Year 7 students will participate in an inclusive Instrumental Music Program.
"In many schools, students only have access to music for a term per year. At MacKillop, all students have a 40-minute music lesson each week based on the Australian Arts Curriculum. The students love coming to music where they experience beat, rhythm, movement, dance, creating, listening, playing, performing and technology. Our strings instrumental program, ensemble and choirs also offer opportunities for students to develop their musical skills to a higher level and there is so much evidence of how this benefits learning in all subject areas."
Not only is music at MacKillop benefiting brain power, it is binding the entire school community by entertaining and benefiting both the school and the wider community.
"Last year, we had our MacKillop Muster which involved musical items by every class. The school community whole-heartedly supported the evening which raised money for farmers affected by the drought as well as our instrumental program. Our senior choir has sung at the Cairns Junior Eisteddfod, the Pyramid Race, Anzac Day and Mount Sheridan Plaza as well as at school assemblies."
Find out more about the MacKillop music program, including the engaging new inclusive Instrumental Music Program here: Harnessing the Power of Music at MacKillop.