We spoke to four Year 6 students about the exciting expansion to secondary at MacKillop Catholic College, Mount Peter.
The First Year 7 Cohort
MacKillop Catholic College's current Year 6 students will be the first cohort to benefit from the new, purpose-built facilities as the college expands to offer secondary education in 2020.
"I'm excited because we'll be the first seniors at MacKillop and we'll set an example for the younger kids," tells Year 6 student Preston Friend.
The expansion to secondary has meant existing primary students will be able to stay at the college as it continues to expand each year with the first class of Year 12s graduating in 2025.
"The advantage of staying here is you've already made friends and you know all the teachers and people here," tells Year 6 student Lacey Dobson, who is looking forward to using the specialised Year 7 spaces in 2020.
Specialised Secondary Spaces
The design process has drawn upon examples of cutting-edge spaces in schools around the nation, with the specialised building planned to be handed over next month.
"I feel excited for all the buildings because I've seen them come up and they look really good," explains Year 6 student Tegan O'Reilly.
Fellow Year 6 student Brandon Carreno is looking forward to being one of the first ones to use the Year 7 spaces next year.
"I'm also looking forward to the new sports area and we will be able to do our own sports carnivals here," Brandon adds.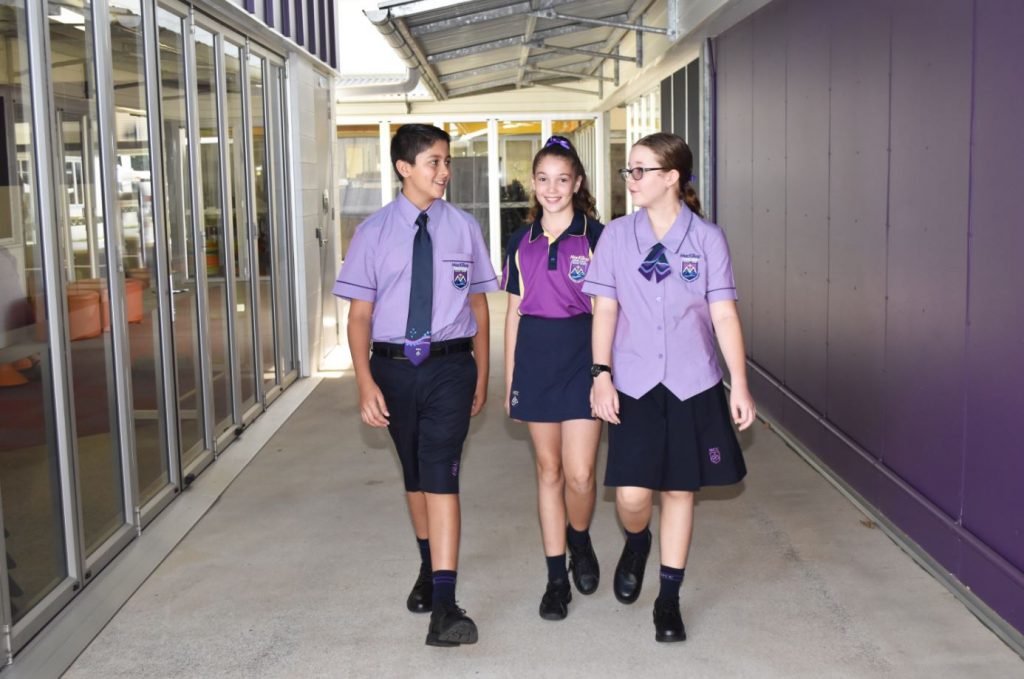 Formal Senior Uniforms
The Year 6 students feel privileged to wear the new senior uniform next year, describing it as "professional and beautiful".
"I feel proud to wear it because we're the first to wear it and we're setting an example to the younger kids. Hopefully they look forward to wearing it too," says Preston.
Classmate Brandon adds he likes the uniform because it's more formal than the junior uniform.
"It's very formal and it's a privilege for us and it means a lot to us," adds Brandon.
Secondary Curriculum
The curriculum from Year 7 through to Year 12 will create a solid pathway for students to transition to university, to the world of work or to post-school technical and vocational training and apprenticeships.
"The curriculum is pretty cool," tells Preston. "I feel excited by the amount of new things we're going to be doing, the better subjects and more variety."
Classmate Tegan believes the subjects on offer will help her achieve her future career goals.
"I want to be a marine biologist or a professional dancer and I think the school will help with either the dancing classes or the science classes," says Tegan.
Find out more about Secondary at MacKillop Catholic College.